Peninsula TV's show about local politics, sports, music, movies and more.
Airs:
Mon / Wed / Fri @ 9am, 2:30pm and 9pm
The Game - Show 201 - Catherine Wolff
The Game
April 12, 2013
Guest: Catherine Wolff, editor, Not Less Than Everything
The Game - Show 200 - Rich Gordon
Recorded 4/12/13
Guest: Rich Gordon
Topic: Same-sex marriage and gay rights
Guest: Assemblyman Rich Gordon, Chair, Legislative LGBT Caucus

The story in Sacramento is that Rich Gordon's spouse -- Denny -- is more popular than the assemblyman. We talk about same-sex marriage with the chair of the Legislative LGBT caucus. The Game is marriage and civil rights. The Game is on.

Our guest today is Assemblyman Rich Gordon. He has represented the Peninsula in the Assembly since 2010. Prior to that, he served 13 years on the San Mateo County Board of Supervisors. He and his spouse, Doctor Dennis McShane, have been in a committed relationship for more than 30 years and on August 16, 2008, they were married in Half Moon Bay. Gordon is chair of the Legislative Lesbian Gay Bisexual Transgender Caucus.
The Game Show 199 - Fiona Ma
Recorded April 5, 2013
Topic: Politics, Transit and Higher Office
Guest: Former Assemblywoman Fiona Ma

Term limits forced Fiona Ma to leave the state Assembly last year, after compiling a record as a leading advocate for high-speed rail, for victims of domestic violence and for safer baby products, among many other initiatives.
Before going to the Assembly, she was on the San Francisco Board of Supervisors. Now, she's running in the 2014 election for the State Board of Equalization district representing, very roughly, Northern California. Welcome back to The Game.
The Game - Show 198 - Devil's Slide Tunnel
April 5, 2013
Topic: The Tom Lantos Tunnels at Devil's Slide
Guests: Lennie Roberts, legislative advocate, Committee for Green Foothills
Zoe Kersteen-Tucker, spokesperson, Think Tunnel campaign

Hosted by:
Mark Simon
Nicholas Calderon

It took an uprising of people throughout San Mateo County to say no to a road that would bypass the treacherous and unstable Devil's Slide and to push for a tunnel instead.
Seventeen years later, the tunnel has opened – and we talk to two key leaders who raised rabble and got all of us to Think Tunnel. The Game is politics. The Game is on.
When the California Department of Transportation decided to build a roadway bypassing Devil's Slide, they thought it would be faster and cheaper than building a tunnel. Building a safe passage up the Coastside would override any objections anyone might have to the fact that the roadway went through environmentally sensitive lands.
But a small group of activists said the cheap alternative exacted too high a price to the long-treasured land and county preserve the road would run through. And a couple of those activists are among the roll call of people some call heroes for stopping the roadway and winning the battle for a tunnel.
We are pleased to welcome Lennie Roberts and Zoe Kersteen-Tucker, two of the leaders of the successful effort to think, vote, build and open the Tom Lantos Tunnels at Devil's Slide.
The Game - Show 197 - Non-Profit Organization Special
Recorded 3/22/13
Host: Mark Simon
Guests:
Kitty Lopez, Executive Director, Samaritan House
Andy Frisch, Executive Director, Kainos Home and Training Center
Kathy Jackson, CEO, Second Harvest Food Bank of Santa Clara and San Mateo Counties
Dr. Sara Larios Mitchell, CEO, StarVista
Melissa Lukin, Executive Director, CORA (Community Overcoming Relationship Abuse)
Karae Lisle, CEO, InnVision Shelter Network, InnVision Shelter Network

Homelessness, hunger, and abuse, struggling families, the developmentally disabled – the issues facing the Peninsula's neediest run the full gamut of seemingly intractable problems. We talk to six leaders of local nonprofits about the challenges they face and whether we need to rethink how we think about charities. The game is giving and The Game is on.

Welcome to the Game. Even in good times, nonprofits struggle to raise funds to meet the needs of those they serve, a challenge that grows exponentially more difficult in hard times. Why do some social problems persist? Why can't homelessness or hunger be wiped out? And are we unfair to nonprofits – do we expect them to succeed like a business but operate as though they have taken a vow of poverty?
We have assembled a team of executives from the Peninsula's most respected, most effective and most important nonprofits to discuss the issues they face raising money, meeting the needs of those most in need and trying to change the social dynamic they face.
The Game - Show 196 - Assemblyman Kevin Mullen
Recorded March 1, 2013
Topic: California politics and policy
Guest: Assemblyman Kevin Mullin

In just the two months that Kevin Mullin has been in the California Assembly, the state's budget has gone from deficit to surplus and a majority of Californians think the state is headed in the right direction. The Game is politics and The Game is on.

Former South San Francisco mayor and city council member Kevin Mullin in 2012 was easily elected to the California State Assembly representing most of San Mateo County in the seat held by his father. He was sworn into office in December and was named Assistant Speaker pro tem, a leadership position in the Assembly.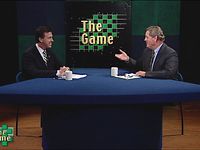 More episodes can be found here.